The KG Signature Violins are based on the Guarneri "Kreisler" of 1730 and are individually hand crafted by KG's top luthier. All instruments in the Signature series are made with carefully selected materials from well-seasoned European wood (aged at least ten years), and finished with an Amber oil varnish using traditional varnishing methods. They are made to a very detailed level of craftsmanship and exhibit the characteristic beauty and elegance of the Italian violin making style. All of the violins have been carefully set up and adjusted to provide the best sound quality.
The instrument measurements are: length 353.5 mm, upper bouts 167 mm, middle bouts 109 mm, and lower bouts 204 mm.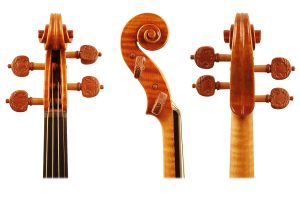 The #500 violins are our top grade instruments and are carefully handcrafted by our most experienced makers, using the best possible seasoned tonewood selected from our large timber stock. The instruments are based on particular classical Cremonese examples – either the 1742 "II Cannone" of Guarneri del Gesu, or the 1733 "Kreisler" by Antonio Stradivari.
Particular attention is paid to the graduation of the plates and these violins produce a very powerful and rich tone making them an ideal solo instrument. They are coated with a traditional, cooked oil varnish (made personally in small batches by KG) and finished in an antiqued style that may vary in appearance slightly from one instrument to the next.
We are also now offering a model made using European tonewoods.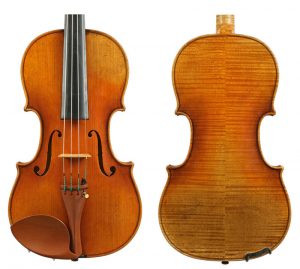 NEW ANTIQUED VERSION OF VL500: KG are currently in the process of developing a more strongly antiqued version of their top-level instrument range. For a preview please click on the images below:
---
The #400 violins are also handcrafted instruments made by our most experienced makers with the same attention to detail as the #500 series. While the very best timber is reserved for the #500 instrument range, all of the instruments in the #400 range use tonewoods that have been carefully selected for superior tonal qualities and appearance.
The #400 violins are also based on the 1742 "II Cannone", or the 1733 "Kreisler" and are finished with our hand-made oil varnish in an antiqued style.
---
Violins in the #300 range are fully handcrafted – the spruce fronts have a very even grain, while the back, sides and neck are well-flamed maple.
Two models are available – a Guarneri and a Stradivari. Both versions have a hand-brushed oil varnish with a lightly antiqued finish. These instruments are ideally suited for the advanced student.
---
The #200 violins also come in both a Guarneri and a Stradivari model. The maple used in their construction is nicely flamed and the spruce has an even grain.
These instruments are coated in a lightly antiqued varnish and are suitable for intermediate students.
---
The #100 model is a handcrafted instrument ideally suited to cater for the beginning player up to an intermediate standard. These are available in all sizes from 1/4 to full size (4/4) and come in three different varnish finishes – a mid-golden/brown, a darker red and a new antiqued version.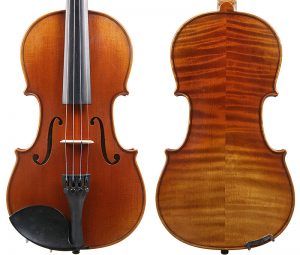 We also supply an upgraded version that comes complete with a light-weight oblong case, a well made Brazilwood bow and quality strings. The #150 grade violin is also available in a three-quarter size, or can be purchased as an unassembled violin.
The #80 model is similar in construction to our #100 instruments, except the wood has some minor blemishes. This is our budget range and is available in sizes from 1/8 to full size (4/4)