Concarbo Tailpieces
We are pleased to announce the introduction of the new ConCarbo Tailpieces to our product range.
The high resonance conductivity of carbon makes it an excellent material for crafting tailpieces. Resonance is transferred from string to body through the tail gut. Combined with low weight carbon fiber composite, it minimizes sound loss in the tailpiece. As a result, the sound of the instrument becomes more powerful, louder, richer and has a faster response.
ConCarbo Tailpieces also come at an affordable price compared to many other similar tailpieces. Please contact us to find out price and available models.
Comparison videos:
---
KG Signature Violin
The KG Signature Violins are based on the Guarneri "Kreisler" of 1730 and are individually hand crafted by KG's top luthier. All instruments in the Signature series are made with carefully selected materials from well-seasoned European wood (aged at least ten years), and finished with an Amber oil varnish using traditional varnishing methods. They are made to a very detailed level of craftsmanship and exhibit the characteristic beauty and elegance of the Italian violin making style. All of the violins have been carefully set up and adjusted to provide the best sound quality.
The instrument measurements are:
Body length: 353.5 mm
Upper bouts: 167 mm
Middle bouts: 109 mm
Lower bouts: 204 mm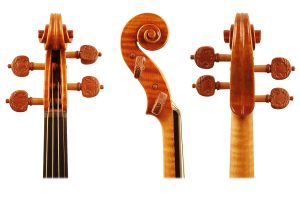 ---
New High Grade Double Bass – DB400
We now have a top quality (#400 grade) double bass available. Click on the images to see more detail.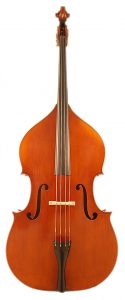 ---
Two new sizes available in Gaspar da Salo model viola
Our popular Gaspar da Salo model viola (standard body length 15 3/8″) is now available in two larger sizes, as a 16″ or a 16 1/2″ model. Prices for all three models are the same. Please specify required size when ordering.
---
New Filius Andrea Guarneri model cello
KG has recently introduced a new cello model based on a Filius Andrea Guarneri of 1692.
The measurements are:
Body length: 756 mm
Upper bouts:  356 mm
Middle bouts: 247 mm
Lower bouts: 442 mm
NB This cello is only available in #500 grade (catalogue number #500A). Please contact us for more details.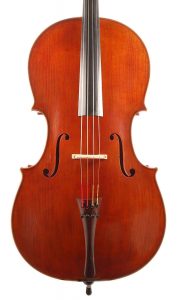 ---